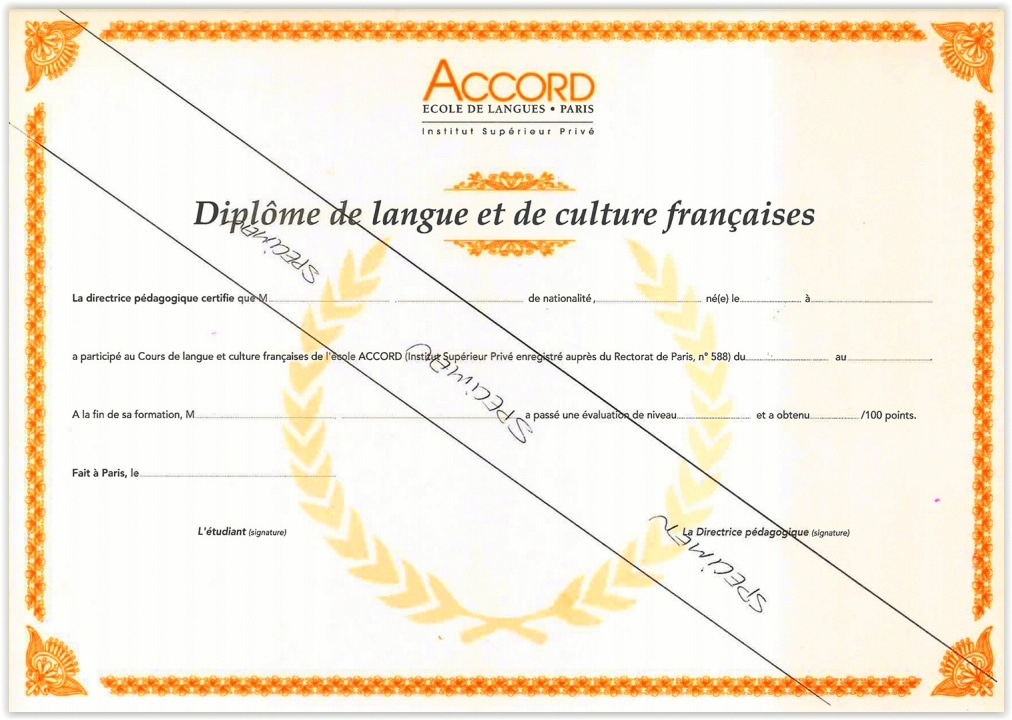 In our French Language School in Paris every year we welcome hundreds of students studying French in our French Culture and Civilisation classes to prepare the Diplôme de Langue et Culture Françaises. Students come from all over the world to ACCORD Paris with one goal in mind, to pass their exam to go back home with their Diplôme de Langue et Culture Françaises.
But why do so many people decide to take this exam in the first place at ACCORD? …and before the DELF?
Here are the top 5 reasons:
1. Your exam results provide you with an official qualification that proves your level of French.
2. The Diplôme de Langue et Culture Française is more than a Certificate that language schools give you at the end of your course.
3. The fees are low, very low: 50 euros only!
4. The exam is organised the last Thursday of your stay and you get the Diploma the next day, on Friday, from the ACCORD Head of Studies.
5. As well as all the benefits of a reputation, the exam achieve its primary purpose, helping you gain the confidence you need to communicate effectively in French!
Special Offer – Diplôme de Langue et Culture Française for free!
You plan to come to France and to Paris in 2021 or 2022? Then now is the time to book your French course, as for any semi-intensive or intensive course booked for a minimum of 6 weeks we are covering the cost of your exam for you.
Contact us to find out more about this great offer!
Click HERE to send us an e-mail
Students' testimonials:
"Great location, friendly, good facilities. Excellent workshops after morning lessons. Excellent relation with teachers. I will recommend Accord, for sure. Excellent value for money!"
5 Stars on Facebook – Viviana (ITALY)
"My daughter just returned back home after three great weeks at Accord in Paris. She is very happy about her stay and proud to show me the Diplome she got. A great school and we will happily recommend you to others! Kind regards."
5 Stars on Facebook – Kristoffer (SWEDEN)
"Everybody was very kind and available. The grammar workshop was really great. I also have the Diploma, which is great for my CV. My host family was better than perfect."
Sabine (GERMANY)
Enrol for 6 weeks or more in our Intensive French Course C and ACCORD pays for your exam fees so you can take the "Diplôme de langue et culture françaises"!
Our intensive French courses for adults (+16 y.o.):
Here is the list of the French courses offered at ACCORD Tour Eiffel school all year round:
Intensive French Course PM2 – 20hours/week
Intensive French Course A – 20hours/week
Intensive French Course B – 23 hours/week
Intensive French Course C – 26 hours/week
Intensive French Course D – 29 hours/week
Super Intensive French Course G – 32 hours/week
Super Intensive French Course E – 35 hours/week
French Culture and Civilisation Course – 26 hours/week
French Oral Communication Course – 26 hours/week
French Grammar and Writing Course – 29 hours/week
Our semi-intensive French courses for adults (+16 y.o.):
Semi-Intensive French Course AM1 – 15 hours/week
Semi-Intensive French Course PM1 – 15 hours/week
French Culture and Civilisation Lessons – 6 hours/week
French Oral Communication Lessons – 6 hours/week
French Grammar and Writing Lessons – 9 hours/week
Our exam preparation courses:
DELF Exam Preparation Course – 26 hours/week
DALF Exam Preparation Course – 26 hours/week
DELF Exam Preparation Lessons – 6 hours/week
DALF Exam Preparation Lessons – 6 hours/week
A and AS Level Preparation Course – 26 hours/week
ILC Preparation Course – 26 hours/week
ABITUR Preparation Course – 26 hours/week
Our French courses for professionals:
Business French Course in Mini Group – 32 hours/week
Business French lessons in mini-group – 12 hours/week
Legal French Course in Mini-Group – 32 hours/week
Legal French Lessons in Mini-Group – 12 hours/week
Intensive PLUS Courses (course + individual lessons)
Individual French Lessons
Our French courses and programs for kids, teens and juniors:
"All inclusive" Summer camp for Teens and Juniors in France, in Paris
Day student program for children Kids, Teens and Juniors
Summer French Language Courses for the Family (parents and children) in France
Summer French Language Course for Teens and Kids in France
Our Programs and French courses for school groups:
Groups and school groups in France and Paris: French courses, visits, excursions
Summer programs for groups in Paris
French exams and certificates:
French Certificates and French Exams
French Exams (TCF, DELF, DALF)