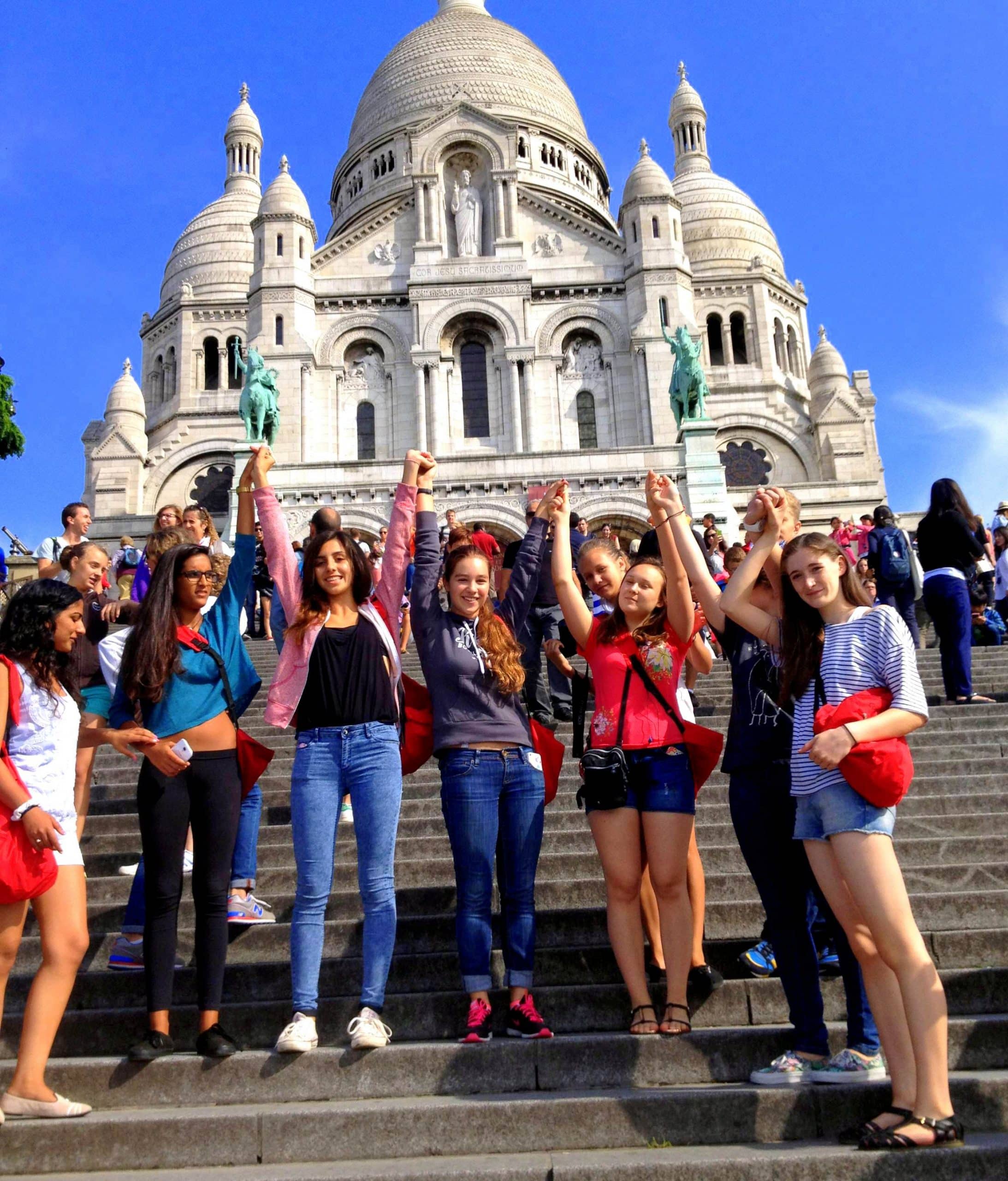 French Intensive Language Programs in Paris 
Select your French language program and French language course in France and study French at a high quality and accredited 'Qualité FLE' French language school which offers a large range of French Intensive Language Programs in Paris.
Do you want to discover the French language and culture?
Do you want to progress in French for the rest of your studies?
Or do you want to study French in France?
Don't hesitate and choose a school with the "Qualité FLE" label for your intensive or semi-intensive French course. And staying for a week or more in the "City of Lights" will allow you not only to discover French culture and civilization but also to live in immersion in the hectic Parisian life.
If you're interested in study French in ACCORD Paris programs, keep reading!
The best thing for you, coming to Paris, will already be to benefit from total immersion. You will listen to Parisians talking to you in French, you will answer them in French, and even if you have little French vocabulary, don't worry, Parisians will repeat the words you don't understand, they will explain them to you with others words, and they will always do their best to understand you and be understood by you.
Please note that Paris being one of the most visited cities in the world, Parisians meet a lot of tourists all year round and when they hear your accent they may be more inclined to speak with you in English, even if you are German or Spanish. We recommend you explain them that you are here to learn French and that you want to speak and make yourself understand in French. You will see that Parisians very much appreciate being able to help a foreigner in French.
French Intensive Language Programs in Paris
Taking a French course at ACCORD will allow you to work on your written French, your grammar, but also your oral comprehension and your oral expression. Our experienced teachers will dedicate the time you need, in class, to help you progress and allow you to manage on your own in the hectic and exciting Parisian life, without the need for a dictionary or a translator app.
To choose the French course that suits you (intensive, semi-intensive, timetables, etc.) consult the list of courses offered by the ACCORD school.
Our "sorties pédagogiques" ("Walking in Paris" lessons)
Oral communication is a priority in our French courses: learning to listen, understand, speak and express yourself naturally and appropriately, with fluency and correct pronunciation and intonation. Our goal is to help you reach a level of fluency where you will be able to communicate efficiently and effectively in French. This is why in summer as all year round "Walking in Paris" lessons are regularly organised so that our students are placed in an authentic environment, enabling them to practice what they have learnt in the classroom whilst exploring Paris and its culture, as well as getting a better understanding of living in Paris.
Paris, the famous "City of Lights", …Sight-seeing, Parisian culture, …and French Food!
There are three things you should not (and will not) miss while selecting one of the ACCORD French Intensive Language Programs in Paris to study French in France: sight-seeing, Parisian culture and French food!
Seight-seeing
Have an unforgettable experience whilst you study French at ACCORD Paris. You will enjoy Paris even more as you are progressing in French!
Famous for its rich history, beautiful architecture and cultural diversity, Paris remains one of the most visited cities in the world. Paris has always been a hive of artistic and intellectual activity with its 134 museums, 170 theatres, world famous universities and cultural festivals, which take place all year round. Maybe you've heard of Leonardo da Vinci's Mona Lisa painting? Don't look somewhere else, it's in Paris, it's in the Louvre museum!
Paris is divided in "arrondissements" and each arrondissement has its own monuments and places worth visiting. There are 5431 streets across the city, each one with a story of its own, relating to the history of France, its artists, scientists and saints. The Left Bank and the Latin Quarter is the heart of the city for the young Parisians. Don't miss out on other fascinating areas such as Bastille, Montmartre, Pigalle, the Champs Elysées and the Ile de la Cité.
Parisian culture
Of course, Paris is also the capital of fashion and design and is internationally renowned for its boutiques, department stores and young designers. You will see that the lifestyle of the Parisian is totally different from that of other cities in France. This is because the culture is also different. The French capital offers many various tourist activities that are part of its culture. During your stay in Paris, you can discover facets of Parisian culture that are interesting and above all special. The culture that can be seen in the capital of France is authentic. Paris therefore stands out from all the other cities in the country due to the fact that it has a very strong cultural identity.

In addition to the must-see places in Paris, you can also attend shows organized in the city. On this point, you have a very wide choice according to your tastes. For this, you can go to the Opéra Garnier and Bastille, the Parc des Princes, the Olympia or even the Grand Rex cinema.
And Nightlife is also part of the culture in Paris!
French food
France is the country of wine and gastronomy, and one rarely goes without the other. This particular attention to the pleasures of the table is found in everyday life. The French are very attached to the three meals of the day. Traditionally, breakfast is eaten when you wake up, lunch around 1 p.m. and dinner around 8 p.m. In France, the meal is considered an art of living and a ritual of happiness.

The bistro is a real Parisian institution and differs from the simple café in that these establishments used to be managed during the last century by wine merchants.
And also, don't forget to talk to your classmates. They will also have ideas of what they want to do after class, maybe have a café or a croque-monsieur in a typical French bistro, or go to a jazz club rue des Lombards. We are sure they'll want you to go with them!
Study French in Paris & French Language Programs in Paris
Studying French in Paris will be for you a memorable study abroad program as it combines language education and cultural experiences in full immersion. To study French in Paris and search for high quality and accredited "Qualité FLE" French language programs in Paris, visit our French language courses web page.
Read all the information relating to each of the courses presented by ACCORD language school in Paris and choose yours according to your wishes and your schedules. With ACCORD you will find your perfect French language program in Paris today!
"Qualité FLE" accredited ACCORD French Language School in Paris
ACCORD French language school – 3bis rue Jean-Pierre Bloch, 75015 Paris
Contact us to receive more information