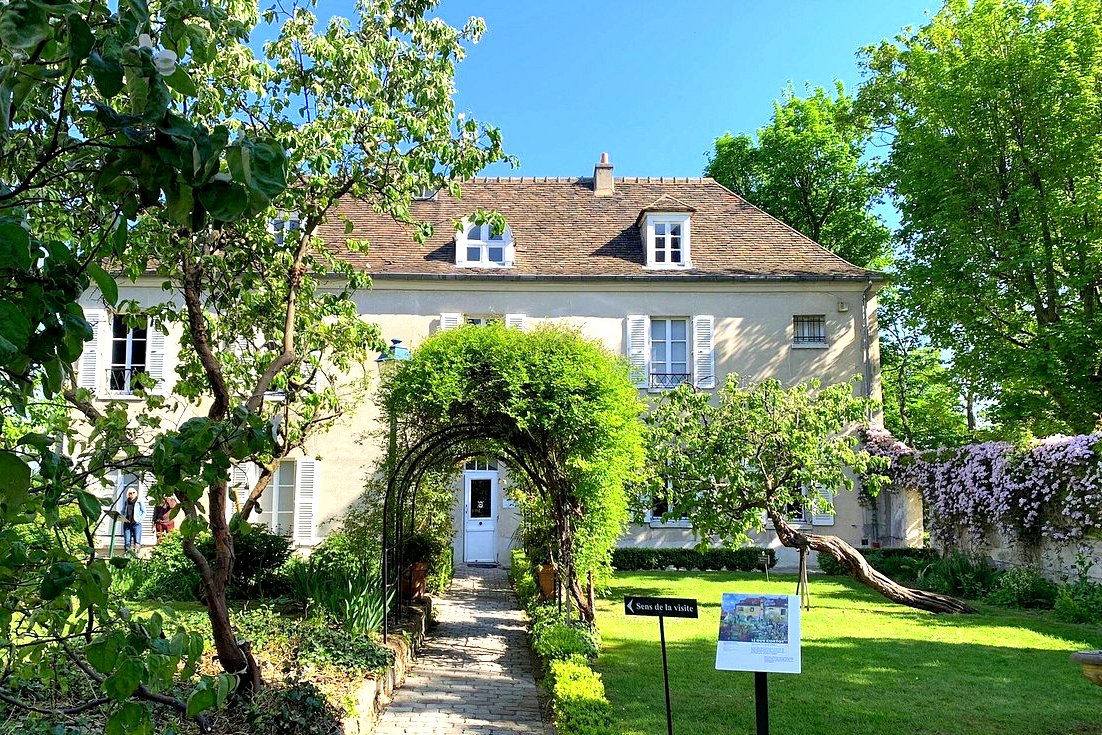 Introducing… Musée de Montmartre
Welcome back to the latest in our Introducing series where we give you an insight into the French capital's best-known landmarks if it's your first time here plus some quirky facts if you've been here before. This time we're introducing you to the Musée de Montmartre, a hidden gem of a museum for those in the know! Ready to explore?
The museum
The Montmartre Museum was founded just a stone's throw from the Sacré Coeur in one of the oldest buildings on the Butte Montmartre: the 17th century Maison du Bel Air. Its permanent exhibition takes you on a trip back in time through the history of Montmartre with a unique collection of posters, paintings, drawings and more. Find out how the mills and vineyards gradually disappeared to make way for urbanisation in the 19th century, before artists began to flock here for the local boho lifestyle and buzzing cabarets.
Visit a reconstruction of one of the artist's studios from the neighbourhood's heyday at the Musée de Montmartre. The designer Hubert le Gall has worked with well-known establishments to faithfully recreate the apartment/studio that Suzanne Valadon, Maurice Utrillo (Valadon's son, painter) and André Utter (Valadon's husband, painter) called home in the early 20th century. Soak up the atmosphere and picture the bohemian artists working and living together right here.
The grounds
The Musée de Montmartre grounds are a haven of peace in the heart of the bustling city. The museum is surrounded by three gardens named after Auguste Renoir. Why Renoir? Because he lived here between 1875 and 1877 and this is where he painted a few of his masterpieces: Le Bal du Moulin de la Galette, La Balancoire and Jardin de la rue Cortot. You can settle down for a bite to eat or a drink at Café Renoir either outside or inside as you gaze at views of the gardens and vineyard. If you fancy visiting the gardens for a bite to eat or a little stroll, it costs 5 Euros without museum admission. The gardens have been renovated according to Renoir's paintings. They provide a good view of the vineyard, which has existed since the Middle Ages and was replanted in 1933.
A tip from ACCORD Paris: the Montmartre Grape Harvest Festival.
Musée de Montmartre: Visitor information
If you visit the Musée de Montmartre between now and October 11th 2023, entry costs 8 Euros due to partial closure and renovation work.
After this date it costs 15 Euros per adult and 8 Euros per child aged 10-17.
Children aged under 10 go free.
The museum itself is open between 10am and 7pm every day and takes around 1.5 hrs to visit.
The café is open between 11.30am and 6pm.
Musée de Montmartre: 12 rue Cortot, 75018
You are looking for a high quality French language course in France? Select one of the Accredited French Language Courses proposed by a Qualité FLE school. Study French in France with ACCORD French Language School in the beautiful capital, Paris.
ACCORD: 3bis rue Jean-Pierre Bloch, 75015 Paris, France
Tel: +33 (0) 1 55 33 52 33
The ACCORD Paris language school is recommended by the editorial staff of PARIS MOVE
ACCORD is rated 5 stars on Tripadvisor
How to get to the ACCORD Tour Eiffel school:
by Métro (underground/subway)
Nearest stations: La Motte-Picquet Grenelle (lines 6, 8 and 10) and Dupleix (line 6)
Other stations: Ecole Militaire (line 8), Bir-Hakeim (line 6)
by Bus: line no. 86 (Champ de Mars), line no. 82 (bus stops: Champ de Mars – Suffren, and/or Général Detrie), line no. 42 (bus stop: Desaix and/or Champ de Mars – Suffren)