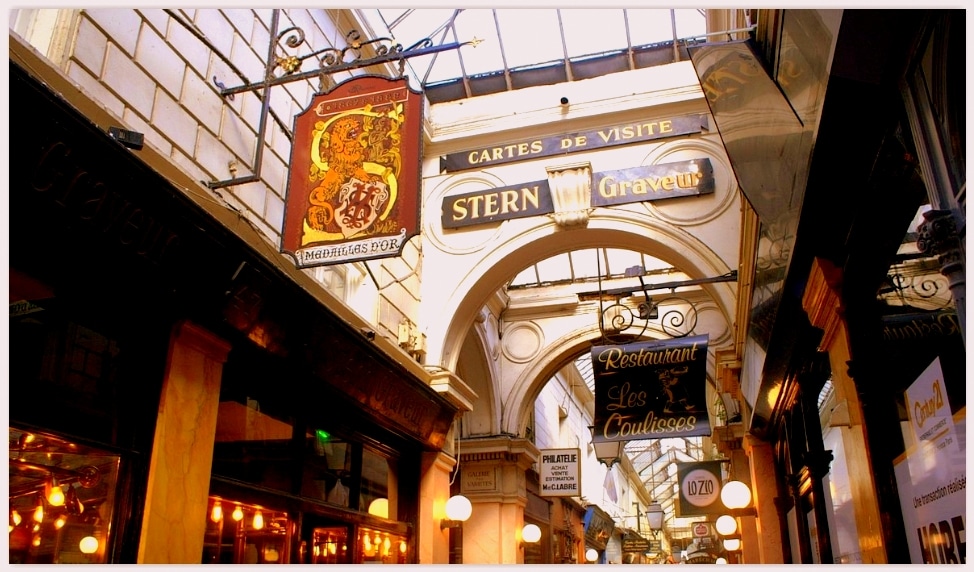 Past and current French students may already have been on one of ACCORD language school's "sorties pédagogiques" and explored the subject of "passages couverts". If you're reading this blog then you're obviously eager to relive the experience or get a taster before you visit Paris for your French course at ACCORD. Join us and let's uncover them together!
"Passages couverts" translates to "covered passages" and are, essentially, hidden walkways with glass roofs designed in the 19th century. People would come here to get shelter from the rain and pass the time with shops, places to eat, drink and more. Fast forward to the 21st century and they're still as popular as ever among tourists and locals alike. There are 20 or so still standing today and here are a few that you don't want to miss.
1. Galerie Vivienne
This is quite possibly the prettiest of the "passages couverts" with its polished mosaics, glossy wood, sparkling glass and wrought iron interior leafy with plants. The walkway was built in 1873 on Rue Vivienne in the 2nd arrondissement and the fashion designer Takada Kenzo put it back on the map in the 1970s when he chose it to host his inaugural fashion show and his first shop. Feast your eyes on the shop windows, enjoy a spot of wine tasting at Legrand Filles et Fils and soak up the magic at Jousseaume, one of the oldest bookshops in Paris.
2. Passage du Grand Cerf
Welcome to the tallest "passage couvert" in Paris with its 12m high glass roof. This one is a hidden gem in the 2nd arrondissement that's off the tourist trail (you can thank us later). It opened in 1825 but was left down-at-heel by the end of the 19th century due to a lack of profit among its traders. Fast forward 100 years and it was given a major renovation and even had a starring role in the 60s French classic, Zazie dans le métro. This is the place to go hunt down antiques, unearth up-and-coming designers and meet talented artisans before a well-earned break at Le Pas Sage (see what they did there?!).
3. Passage des Panoramas
It's time to head over to the 9th arrondissement to visit the oldest "passage couvert" in Paris. Passage des Panoramas is so iconic that it even appeared in Zola's novel Nana (remember? Count Muffat goes for a walk to look at the arcade's shop windows). It became a hotspot among stamp collectors so it's no surprise that the pretty walkway is lined with stamp traders and vintage postcard shops. If you're feeling peckish and fancy eating somewhere special, make a beeline for Victoria Station and settle down in its plush velvet train carriage. All aboard!
4. Passage Jouffroy
If you exit Passage des Panoramas onto Boulevard Montmartre then cross the road, you'll stumble straight into Passage Jouffroy. It's like a two for one deal on "passages couverts"! This 19th century walkway was the first in Paris to be built entirely from iron and glass before a full renovation in 1987 gave it an opulent marble floor. What sets this arcade apart from the rest is that it's home to a museum: the Musée Grévin. It's one of the oldest wax museums in Europe and home to 500 wax figures, a mirage room and magic theatre… put it on your to-do list if you're taking a family French course at ACCORD language school!
ACCORD French Language School: 3bis rue Jean-Pierre Bloch, 75015 Paris, France
Tel: +33 (0) 1 55 33 52 33
The ACCORD Paris language school is recommended by the editorial staff of PARIS MOVE
ACCORD is rated 5 stars on Tripadvisor
How to get to the ACCORD Tour Eiffel school:
by Métro (underground/subway)
Nearest stations: La Motte-Picquet Grenelle (lines 6, 8 and 10) and Dupleix (line 6)
Other stations: Ecole Militaire (line 8), Bir-Hakeim (line 6)
by Bus: line no. 86 (Champ de Mars), line no. 82 (bus stops: Champ de Mars – Suffren, and/or Général Detrie), line no. 42 (bus stop: Desaix and/or Champ de Mars – Suffren)