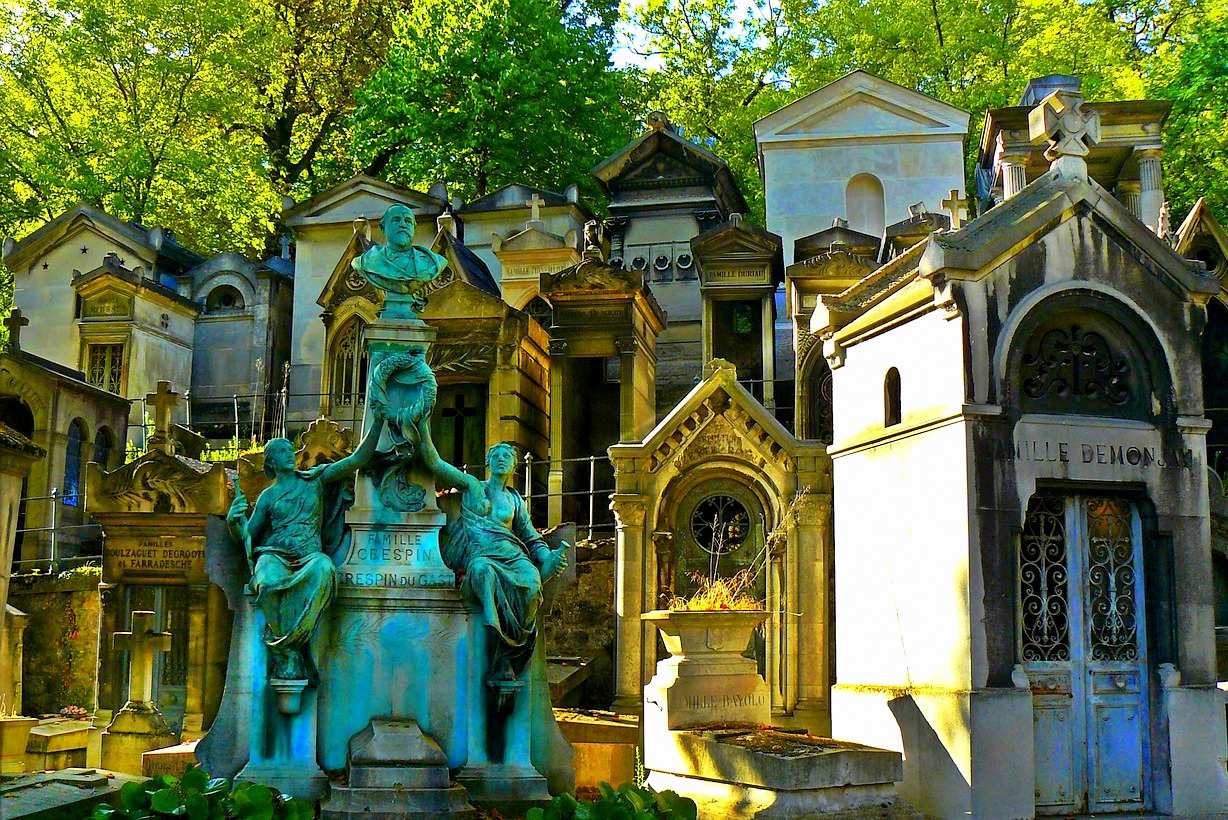 Introducing… the Père Lachaise Cemetery
Welcome back to the latest in our Introducing series where we give you an insight into the French capital's best-known landmarks if it's your first time here plus some quirky facts if you've been here before. This time we're introducing you to the Père Lachaise cemetery (Cimetière du Père-Lachaise), one of the biggest attractions in Paris and just 35 minutes on the metro from Accord language school! Ready to explore?
A bit of background
Not only is it the biggest cemetery in Paris at 44 hectares, it's also the most visited cemeteries in the world with over 3.5 million visitors a year. It was opened in 1804 by Napoleon and is home to over 300,000 human remains. Père Lachaise has seen battle too with armed combat on two occasions: it was overrun by the Russians during the Napoleonic War in 1814 then 147 workers were killed here during the chaotic Paris Commune in 1871. You can actually see the bullet holes in the "Mur des Fédérés" commemorating the massacre.
Humble beginnings
The cemetery may be famous for being the final resting place for some of the world's most famous names, but things didn't start so well for Père Lachaise. It was thought to be too far away from the city so not many funerals were held here. It also hadn't been blessed by the Church so many Roman Catholics refused to be buried here. That meant there were only 13 burials here in 1804 when it first opened. 1817 marked a turning point when the French authorities made the smart move of moving the remains of the famous 17th century playwright Molière and the fable writer Jean de la Fontaine to Père Lachaise. Although there is much debate about whether they really are buried here, the move saw flocks of Parisians request burial sites here and today's there's even a waiting list for a plot.
Dead famous
The cemetery is home to famous people and equally famous graves. Some of the tombstones are recognised as "historical monuments" so have listed status. It's like being in a museum! One of the famous names is Jim Morrison from The Doors, who is buried here and watched over by a security guard since his bust was stolen. Another is Oscar Wilde whose tomb is covered in lipstick and even a glass barrier can't stop visitors from kissing the stone! Keep an eye out for Louis-Sébastien Gourlot's grieving widow… you can't miss her (she's painted gold!). Cemeteries can be creepy places and Père Lachaise is no stranger to the macabre: the Raspal family mausoleum has the Grim Reaper trying to get in through the window whilst the Robertson family tomb is all winged skulls and creepy owls. You've been warned!
Notable figures in the arts buried at Père Lachaise include Colette, Frédéric Chopin, Édith Piaf, Marcel Proust, Georges Méliès, Marcel Marceau, Sarah Bernhardt, Georges Bizet, Sir Richard Wallace… and many more.
Visitor information
You can pick up a free map at the Conservation Centre at the cemetery's entrance so you can find your way around the maze-like landmark and visit the famous tombs. Entrance is free and the cemetery is open all year round. Please remember that this is a cemetery so no picnics, jogging, alcohol or anything deemed disrespectful is allowed here. Your closest metro stops are Père Lachaise and Gambetta.
ACCORD French Language School: 3bis rue Jean-Pierre Bloch, 75015 Paris, France
Tel: +33 (0) 1 55 33 52 33
The ACCORD Paris language school is recommended by the editorial staff of PARIS MOVE
ACCORD is rated 5 stars on Tripadvisor
How to get to the ACCORD Tour Eiffel school:
by Métro (underground/subway)
Nearest stations: La Motte-Picquet Grenelle (lines 6, 8 and 10) and Dupleix (line 6)
Other stations: Ecole Militaire (line 8), Bir-Hakeim (line 6)
by Bus: line no. 86 (Champ de Mars), line no. 82 (bus stops: Champ de Mars – Suffren, and/or Général Detrie), line no. 42 (bus stop: Desaix and/or Champ de Mars – Suffren)