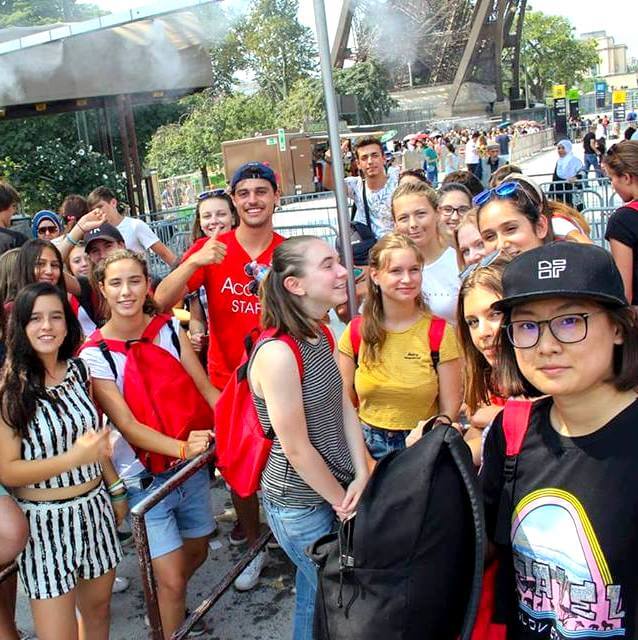 French Immersion Summer Programs For Kids
20 lessons
15 hours/week
from 350,00€ per week
French Immersion Summer Programs For Kids: The ACCORD Day Student program for Children in France, in Paris, welcomes Children and Teenagers from 6 to 11 and from 12 to 17 years old at its Parisian summer school.
2022 Dates:
From July 4th to August 19th 2022
Duration: from one week
The ACCORD Day Student program for Children in France includes a 15 hour/week French course, a program of visits and activities every afternoon, and lunches every day. Dinners and evening activities on request.
Please note that due to French regulation, for the 6 to 11 years old Children enrolled as Day Students, a parent has to book for the same program.
The ACCORD French Immersion Summer Programs For Kids is specifically designed for Children and meets:
– Parents' expectations in terms of security on site and during the visits, quality teaching and healthy food,
– Children' expectations: discover Paris, make friends with children of other nationalities, get involved in cultural and fun activities, and learn French.
The ACCORD Day Student program for Children in France, in Paris, is registered at the DDCS 75 – Préfecture de Paris, and the ACCORD staff members in charge of the Teens during their stay have the official BAFA/ BAFD degrees (Brevets d'Aptitude aux Fonctions d'Animateur – or de Directeur).
Accredited "Qualité FLE" French language school. ACCORD is member of SOUFFLE and CAMPUS FRANCE. ACCORD : 1988-2018, 30 years experience in teaching French as a foreign language in France to Children, Teens and Juniors.
To register for the ACCORD Day Student program in Paris, please download the REGISTRATION FORM and send it by email to booking@accord-langues.com

20 lessons

15 hours

Maximum 15 students/class


Meals
Facilities at the ACCORD summer school: a self-service restaurant, a meeting room, classrooms, a sports hall, outdoor terraces and an internet area.
Meals: Lunches are served in the residence restaurant and are all included in the price of the programme. Dinners are also available on request.
An afternoon snack is also included in the price. During some excursions, lunch or dinner will be a packed lunch.
There are also vegetarian and pork-free meal options available.
Other special dietary requirements (diabetic, gluten-free, etc.) can also be catered for but parents need to inform the school at the time of enrolment.

French courses
Levels of French
Courses open to all levels, from complete beginner to advanced.
On their first Monday morning, Children take a placement test in written and spoken French, to be placed in the class of their level.
We try to mix classes so there are students of a similar age and different nationalities.
Course timetable
French lessons: 20 lessons/week (15 hours/week)
Classes take place in the morning, from 9:00 to 12:00
French classes take place in the ACCORD Saint Nicolas summer school
Maximum 15 students per multinational class (average 11)
Additional French courses available
For the Children who need to improve their written French and French grammar, we recommend our Writing/Grammar lessons, 5 hours per week, one hour per day, from 12:00 am to 1:00 pm
Price: 170 euros/week
For the Children who prefer to improve their French on individual basis, we offer one-to-one lessons, 5 hours per week, one hour per day, from 12:00 am to 1:00 pm
Price: 450 euros/week
For more information about the ACCORD Day Student program in Paris, please contact us
Teaching method
"Play and Learn": this is how Children and Teens describe the ACCORD's teaching methodology. ACCORD teaching focuses on oral communication using authentic documents such as songs, TV programs, movies and magazines.
ACCORD teachers have compiled a wide range of games and activities that make the learning of grammar, structure, vocabulary and pronunciation interesting and fun.
The teachers, all University graduates, are fully qualified in the teaching of French as a foreign language. They are experienced in teaching French to children.
ACCORD School is a "Qualité FLE" accredited school

Certificate
On the last day of their stay, Children will be given an end of course certificate, stating their level and the number of hours of French they have studied, and the progress made during their course.