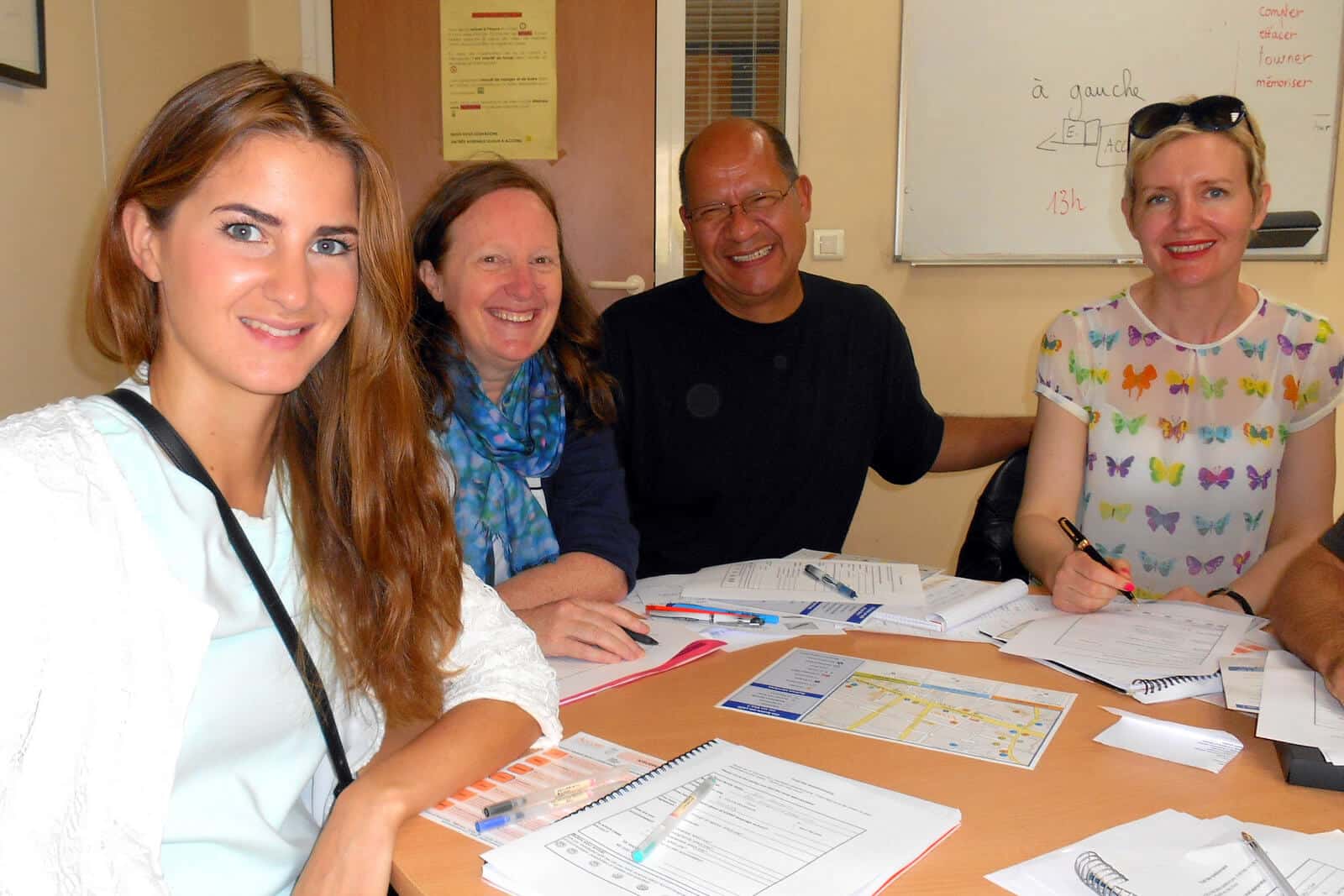 General French Evening Course
4 lessons
3 hours/week
In the current sanitary situation and the necessary measures taken to ensure that both our staff and students registered in the General French Evening Course can study in the best possible conditions, we have decided to offer our Evening Courses ONLINE only until further notice.
We look forward to welcoming you in our online Evening Courses. More information is available HERE in our ACCORD blog.
.
.

Lessons on Tuesdays and Thursdays evenings.

Timetable: from 19:00 to 20:30
This French Evening Course is ideal for the persons who work in Paris and near Paris (La Défense, Issy-les-Moulineaux, Neuilly-sur-Seine, Boulogne-Billancourt, Marne la Vallée, Poissy, Nanterre, etc.).
Before you start your class, you will need to take an oral and written test.
This General French Evening Course encourages students to practise their French through the use of authentic material and to learn related idiomatic expressions in various contexts.
The ACCORD General French Evening classes in Paris are open to all levels, from complete beginner to advanced.
At ACCORD Paris, join a high quality French Evening course at a cheap price!
Fantastic location in the heart of Paris, near the Opéra Garnier and at walking distance from the Grands Magasins and La Bourse, on the famous Grands Boulevards
Friendly and experienced ACCORD teachers.
ACCORD Paris school is registered as "Formation professionnelle continue"
ACCORD is a Datadock registered language school
ACCORD Paris is member of SOUFFLE and CAMPUS FRANCE
ACCORD : 1988-2018, 30 years experience in teaching French as a foreign language.

4 lessons/week
One lesson = 45 minutes

3 hours/week
One hour = 60 minutes

Maximum 14 students/class
Average 9 to 10.



Course Content
Timetable: Tuesday and Thursday, from 19:00 to 20:30
This general French evening course is aimed at all students from all levels who wish to improve their language skills in General French covering everyday topics and situations.
Subjects covered in class include: topical vocabulary and language, study of grammatical structures, pronunciation and listening skills, social skills, cultural awareness, reading and writing skills, conversational French.

Certificate
A certificate will be given to each student at the end of the course.
Read more about our Certificate: ACCORD's Certificate

Diploma
You also can take an exam to get the official "Diplôme de langue et culture françaises" recognised by the Académie de Paris.
The exam is held on Thursday afternoon and the fees are 50 euros.
Contact the Head of Studies of the school to have confirmation of the timetable of the exam before to book for it.
Sample of the Diploma can be seen HERE

2021 Dates
Starting dates for all levels, except complete beginners: every week
Calendar for beginners: HERE
The school will be closed April 5th, May 13th, July 14th, November 1st, November 11th and from Saturday December 18th 2021 to Sunday January 9th 2022 included. The school will open on Monday January 10th 2022.

Prices
Download the 2021 French on line evening course fact sheet HERE

Additional information
No hidden fees! Course Fees include level testing, teaching materials and end of course certificate.
No registration fees!
The ACCORD Paris French evening course is available all year round. The course is open in July and August!
Before you start your class, you will need to take an oral and written test with the teachers at the ACCORD language school. If you book your evening course on the day you want to start, you need to arrive at 6:00 pm so that you can take the test and be placed in the appropriate class of your level.

Our Recommendation
If you need to improve your French language skills quickly, you can add to your General French Evening Course one of our intensive French courses during the day. You'll just need to take a week or two off work and focus on your French!
For those of you who have one afternoon free, why not join one of our afternoon lessons dedicated to Oral Communication, Writing/Grammar or French Culture and Civilisation. Just ask at the ACCORD Reception service when you arrive for your General French Evening Course.