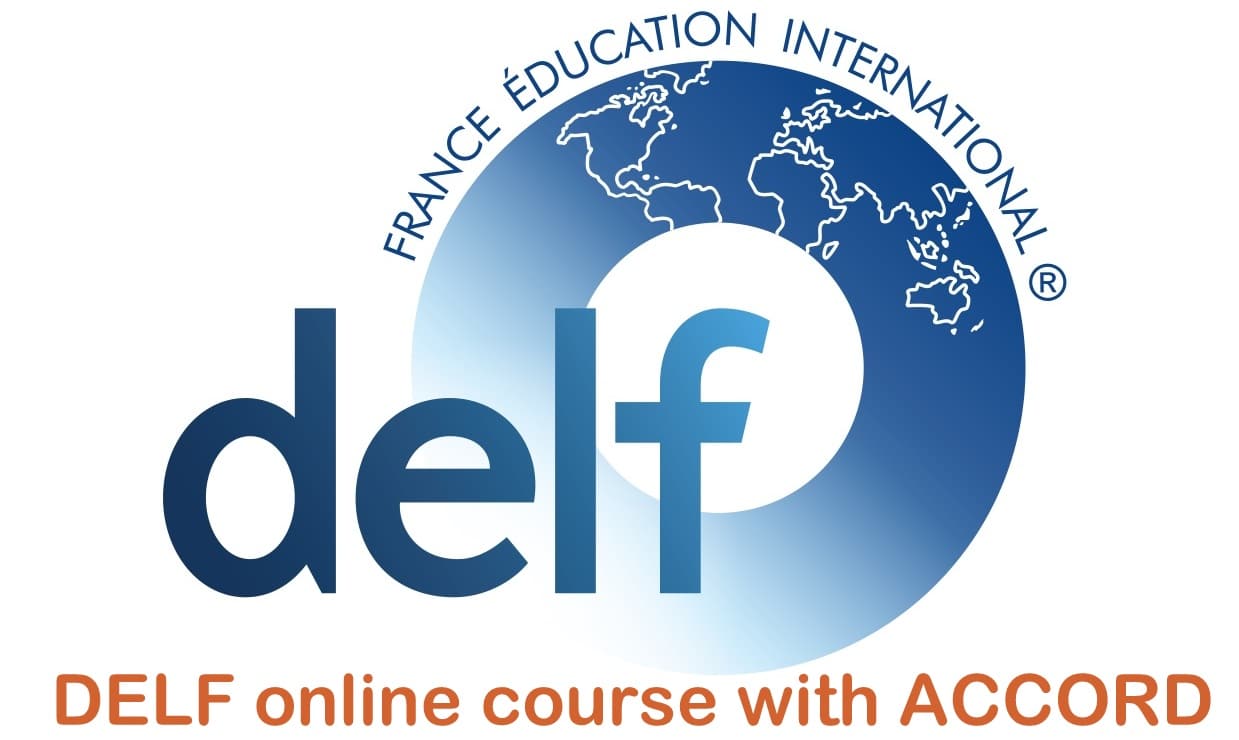 You need to improve your French skills and prepare effectively to take the DELF exam but do not want to travel to Paris?
You want to make sure you are fully prepared to take the DELF exam but want to work at your own pace and from the comfort of your home?
Don't look any further…
The DELF online course with ACCORD allows the students to focus on specific skills and subjects to prepare the DELF exam in the best conditions.
The DELF online courses with ACCORD are taught in mini groups of 6 students maximum!
Possibility to add online one-to-one lessons to your DELF French Course.
NO registration fees and NO hidden fees!
Your DELF online course with ACCORD includes teaching materials and end of course certificate.
What is the DELF?
The DELF is the "Diplôme d'études en langue française", a diploma recognised by the French Ministry of Education.
This diploma is recognised worldwide and valid for a lifetime.
The DELF exam can add value to your CV and help you secure a job with a company where French is spoken or needed.
The DELF B1 also gives you access to the French nationality.
The DELF B2 and more, the DALF C1 enable you to enter a French university.
More information about the DELF exam is given on the Examens-Paris website, HERE
DELF online course with ACCORD
You need to improve your French skills and be thoroughly prepared for taking the DELF exam but you don't have the time or the budget to study in France?
With ACCORD you can enrol in a DELF online exam preparation course whenever and wherever you choose.
This online course focuses on the Levels B1 and B2 DELF exam preparation and the DALF online course focuses on levels C1 and C2 of the CEFR (Common European Framework of Reference for Languages).
If you have not reached Level B1 yet, you can still join our DELF Online Course to make sure you progress quickly with the help of our dedicated and experienced teachers.
The minimum course length of the DELF online exam preparation course is 4 weeks, but after the initial 4 weeks, you can extend your course and choose the number of weeks which suits you.
We recommend you discuss your exact needs with your teacher so you get the best advice about the course duration. This way, you are sure you take the DELF exam (level B1 or B2) fully prepared and optimise your chances of success!
Our success pass rate is 98%!
If you wish, you can also add one-to-one lessons at any time, you can book one hour per week or more. The individual focus is a great idea as it takes the stress out of the exam and enables you to take the exam confidently… a sure way to pass!
DELF online course with ACCORD
We worked very hard to provide professional online French classes taught via live videoconferencing by our teachers, which enable our students to be really prepared for the exam.
After you have enrolled in our DELF online course, we will send you a questionnaire so that our teachers can really assess your needs and give you the exact support you need to pass the DELF exam.
Our selection of online French courses are all taught by qualified French language teachers and every student gets the opportunity to learn from a native French speaker.
Of course, why not join a DELF online course with ACCORD for a few weeks before joining us for your face-to-face course in France, at ACCORD Paris!
ACCORD ONLINE Course Enquiry HERE
ACCORD ONLINE Course prices: please contact us
:::::::::::::::
About our ACCORD online courses: "Professionalism, Quality, Value"
Communication, Professionalism, Quality, Value… these are the recurring terms most used by the ACCORD students who decided to join an online course during the last lockdown in Paris. Their reviews below can be found on the ACCORD Google page, with their 5***** marks.
Read more about the ACCORD student testimonials HERE
More information about our Online French evening course HERE
ACCORD Paris is accredited by the official "Qualité FLE" and is member of SOUFFLE and member of CAMPUS FRANCE.
Our ACCORD Facebook page: HERE