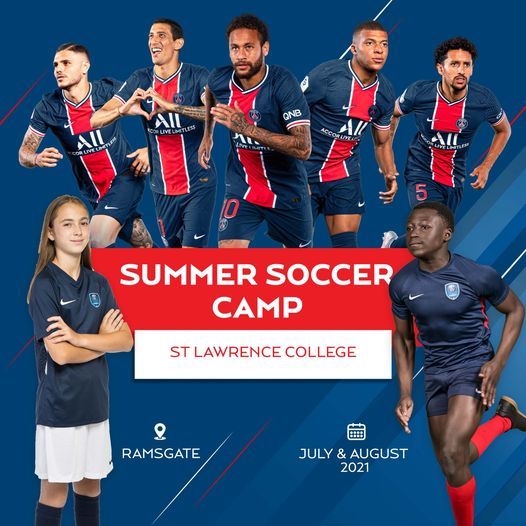 ACCORD Summer Soccer Camp in Ramsgate, Kent 
Paris Saint-Germain Academy England is proud to announce a new Soccer Camp this summer at St Lawrence College in Ramsgate, Kent.
Open to boys and girls aged 8-15 years old.
All abilities are welcome!
Soccer Camp in Ramsgate – Dates available:
26th July – 30th July
2nd August – 6th August
9th August – 13th August
16th August – 20th August
Timetable: Monday to Friday (9.15am-4.00pm)
ACCORD Summer Soccer Camp
Included in the Soccer Camp:
Full Paris Saint-Germain Academy Kit (Shirt, Shorts & Socks)
Full Training from qualified coaches
Paris Saint-Germain Academy training sessions
Individual Guidance & Development
Lunch Included
Certificate & Player Report
+ Prizes & Goodies!
+ Lots of Fun!
Residential Programme available at the Soccer Camp – please contact us at info@psgacademyengland.com
The Tip of the month : How to choose a good French Language School
We know that choosing a high quality French language school requires careful research as there are many important factors to consider before selecting a French language school in France and enrol in a French language course.
In this information blog we recommend/ list some of the most important points you need to look at before you choose a French language school.
The number of years as a French Language school and its experience:
As you have probably seen or read in magazines dedicated to the language industry, language schools come and go. First of all, choosing a language school that has been operating for a number of years demonstrates that the language school has developed an experience and built a reputation as a professional organisation. Such a school knows how to provide the best possible experience in French language learning for its students.
ACCORD Paris has been running an all year round school and a summer school (for teens and juniors) for over 30 years and has welcome over 100.000 students during that time. We pride ourselves on our long-standing reputation as one of the best French language schools in France.
Find out more about our Parisian school and its history HERE
And visit our ACCORD Facebook page: HERE