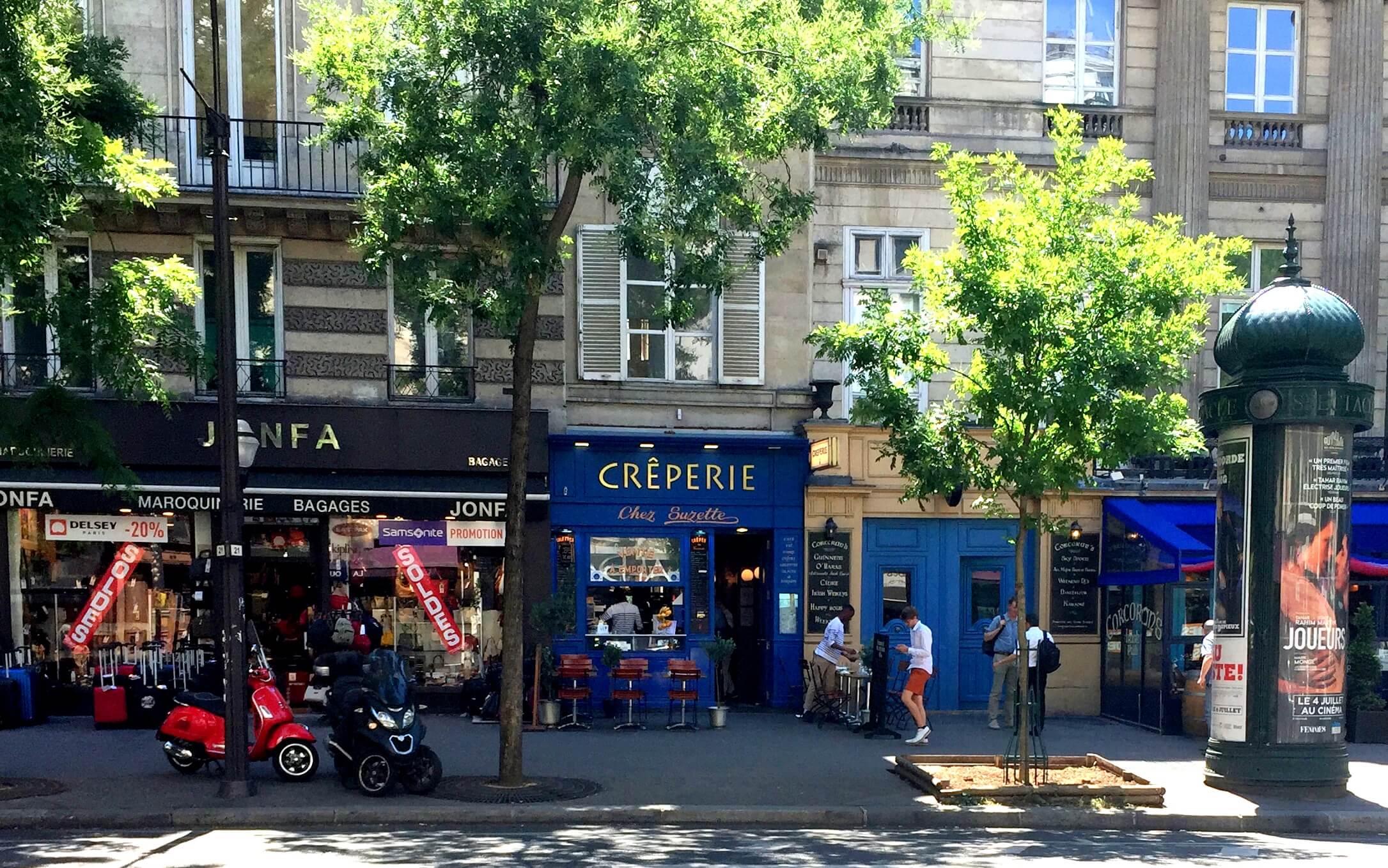 ACCORD on the famous Grands Boulevards in Paris
Apart from being the location of my favourite school in Paris to learn French, the Grands Boulevards area is the perfect illustration of what Paris was during the Belle-Epoque with its beautiful, typically Parisian building designed by the famous architect Haussmann.
The Grands Boulevards encapsulates what I love about Paris: the fantastic architecture, it many cafés, restaurants and bistros, its theatres and of course its very famous Department Stores, Galeries Lafayette and Le Printemps.
After your French class at ACCORD School on Boulevard Poissonnière, which is part of the Grands Boulevards on the Rive Droite, you can order a "café" or a "Kir" at one of the many cafés and bistros near the school and deciding what to do next?
Will you go down the Passage Jouffroy only five minutes' walk from ACCORD school where you can check out the lovely boutiques: the doll's house shop is one of my favourites. Don't miss the cane and umbrella shop where Dr House from the US TV series had his famous cane made and where the umbrellas are to die for, or the shop displaying all the figures from famous French comics: Astérix and Obélix, Tintin and Milou, and of course the most famous little boy in France literary world, Le Petit Prince…
And I love the beautiful shop with old books and beautiful advertising posters, choose one about the famous Monaco Grand Prix or the one showing Josephine Baker at the Folies Bergères to remind you of Paris during the "Années folles" and bring them back home to remind you of Paris and your time at ACCORD.
If you want to stretch your legs, why don't you carry on all the way down to the Grands Magasins, and stop by Galeries Lafayette, a must for all of your fashionistas.
Get practising the French you've learnt at ACCORD whilst checking out the designer handbags or try a new pair of sandals. What is your "pointure" (shoe size)? And when you have finished shopping, go to the rooftop and enjoy a stunning view over all of Paris and its monuments.
You are wondering how I found out about all these great places on the Grands Boulevards? Well, that's easy, I joined the ACCORD French and Culture Civilisation lessons on top of my French morning course at ACCORD school, and during one of the lessons, our great teacher talked to us about the history of the Grands Boulevards, the special places to look out for like Passage Jouffroy, etc.
We were also taken to some of the places… It was fascinating for all of us… and I even made a presentation at the end of the lesson about Le Petit Prince during one of our other lessons.
Rachel B. (Tonbridge Wells – UK)
All photos (except the Galeries Lafayette photos): © Rachel B. and ACCORD Paris
:::::::::::::::::::
ACCORD on the famous Grands Boulevards in Paris
Read more about:
• the famous Grands Boulevards, on the Parisian Office du Tourisme website
• the Grands Boulevards are also on Tripadvisor website, HERE
• the ACCORD French Culture and Civilisation course
• select your accommodation with ACCORD
:::::::::::::::::::
Find ACCORD Paris on the internet under:
#French language courses in France #French language course in Paris #Evening French language course #French course and family homestay #intensive French courses in France #intensive French classes #intensive French language course #intensive French lessons #summer camp for teens in France #French immersion courses #learning French courses in France #teachers of French courses in France #French language exam #Diploma in French language #DELF preparation course #French DELF exam #DALF preparation course #French DALF exam #French TCF exam #business French course #French and law course #total immersion courses in France #French courses in France for families #high quality French courses in France #French summer courses for kids in Paris #French courses for university groups #French language course for school groups #accommodation in Paris #French courses on the French Riviera #French course in Nice #French course in Antibes #summer French course for juniors #cheap price French course #accredited French language school #high quality French language school #French language courses reviews #internship in France #oral communication course #written French and grammar #French culture and civilisation classes